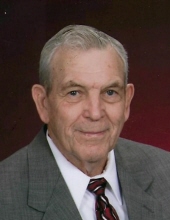 Obituary for Burket Calloway Cusick
Burket Calloway Cusick, "Burk," age 89, passed on August 8, 2017. He was a lifelong resident of Lenoir City, TN, and a member of Dixie Lee Baptist Church. He was a remarkable man and a loving and devoted husband, father and grandfather.

Burket was drafted into the United States army during the Korean War, rising in rank to platoon sergeant with the US Seventh Division. Around the time he was promoted to sergeant, he received his Combat Medal. Upon his return to the states, he served as a weapons instructor at Fort Knox before returning to Lenoir CIty. In March 1953, he married his betrothed, Reba Rayfield Cusick, who had been waiting at home for his return. Soon thereafter, they had daughter, Linda, and then son, Barry. Burket and his brother Bob owned and operated Cusick Builders until Bob became ill. They built many custom homes, banks, and hotels in the area.

Burket is preceded in death by his parents Cecil and Zella Kirkland Cusick and brothers Bob and Bill Cusick. He is survived by his wife Reba Rayfield Cusick; daughter Linda Cusick Burger and husband Randy Burger of Athens, TN; son Barry Burket Cusick and wife Betty White Cusick of Lenoir City; grandson David Alan Davis II; granddaughter Monica Burger Chesnutt and husband Lindsey; great-grandchildren Olivia Grace Davis, Elijah Thomas Chesnutt, and Ezekiel Calloway Chesnutt; and several nephews, nieces, brothers and sisters in law. The family would like to express a special thank you to Covenant Hospice staff including nurses Glynis Moore and Raquel Sankey.

The family will receive friends from 5 p.m. to 7 p.m. Saturday, August 12th at Click Funeral Home in Lenoir City. Funeral services will follow 7 p.m. with Rev. James Clayton and Rev. Steve Meadows officiating. Family and friends will gather at the funeral home by 1:30 p.m. on Sunday and proceed to Lakeview Cemetery for graveside services with full military honors conferred by the Loudon Co. Veterans Honor Guard. Nephews Howard Cusick, Dean Cusick, and Ronnie Cusick will serve as pallbearers along with David Alan Davis, Randy Burger, and Lindsey Chesnutt. Memorial contributions may be made to Dixie Lee Baptist Church. Click Funeral Home, 109 Walnut Street, Lenoir City is in charge of arrangements. www.clickfuneralhome.com

"To-morrow, and to-morrow, and to-morrow,
Creeps in this petty pace from day to day,
To the last syllable of recorded time;
And all our yesterdays have lighted fools
The way to dusty death. Out, out, brief candle!" MacBeth
Previous Events
Visitation
Click Funeral Home
109 Walnut Street
Lenoir City, TN 37771
The family will receive friends from 5 p.m. to 7 p.m. on Saturday at Click Funeral Home in Lenoir City.
Funeral Service
Click Funeral Home
109 Walnut Street
Lenoir City, TN 37771
Funeral services will follow at 7 p.m. on Saturday in the Click Funeral Home Chapel.
Graveside
Lakeview Cemetery
City Park Drive
Lenoir City, Tennessee 37772
Family and friends will gather at the funeral home by 1:30 p.m. on Sunday and proceed to Lakeview Cemetery for 2 p.m. graveside services.
Cemetery Details
Location
Lakeview Cemetery
City Park Drive
Lenoir City, Tennessee 37772