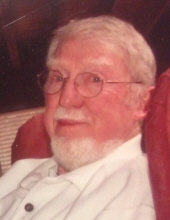 Obituary for James Lewis Botts
James Lewis Botts, age 88 of Lenoir City, passed away peacefully at his home on Saturday, May 6, 2017 at 5:00 p.m. His wife, Brenda and their daughter, Rhetta were at his bedside. He was born on August 6, 1928 at Whitleyville, Tennessee. He graduated from Tennessee Polytechnic Institute in 1950 with a Bachelor degree in Chemistry and then received his Master's Degree from The University of Tennessee in Chemistry. He worked as a chemist at Oak Ridge National Laboratory for many years where he retired in 1993. Jim served his country in the 1950's in the U. S. Army's Chemical Corps. Prior to his most recent illness, he was an active member of the Church of the Resurrection in Loudon where he helped to develop the church's cremation garden as well as serving on the Vestry. An avid hiker, he was also a member of the Smoky Mountain Hiking Club and was a Board Member of the Appalachian Trail Conference. Hiking the Appalachian Trail was one of the many activities with that organization. He enjoyed horseback trail riding and owned several horses on his beautiful farm in Lenoir City which he lovingly called the "Pumpkin Patch" for which he did much of the construction of the house, barns, and other buildings on the property. A multi-talented man, he was also well skilled in carpentry and produced many of the wood furnishings in their home. Jim was a devoted father, along with Brenda making the long and difficult trip to an orphanage in Vietnam for the adoption of their daughter, Rhetta Brooke. Those who were fortunate to know him well and call him friend saw a very principled man of Christian faith, a loving husband and father, and an individual of impeccable character. His marriage to Brenda for 34 years was one of mutual love and dedication to each other, a wonderful example for all to follow. And to a long list of adoring nieces and nephews he was just "Uncle Jim". A wonderful role model in so many ways to so many family and friends who will miss him dearly. He was preceded in death by his parents, Lewis McEven Botts and Mary Ruby Draper Botts. Survived by his wife, Brenda; daughters, Rhetta Brooke Botts and Kathleen Vinson; sister, Francis Hogg; niece, Susan Johnson and her husband, Phil Johnson. In lieu of flowers, contributions may be made to Knoxville Catholic High School, checks made payable to KCHS Annual Fund, memo Jim Botts. Services will be held at 11 a.m. on Wednesday, May 10, 2017 at the Church of the Resurrection in Loudon, TN. Interment will follow in the gardens at the church. A reception will follow in the church social hall. Click Funeral Home, 109 Walnut Street, Lenoir City is in charge of arrangements.
Previous Events
Service
Episcopal Church of the Resurrection
917 Pond Road
Loudon, TN 37774
Services will be held at 11 a.m. on Wednesday at the Episcopal Church of the Resurrection. Interment will follow in the gardens at the church.