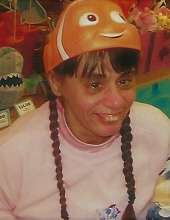 Obituary for Kimberly Ann Weaver
Kimberly Ann Weaver, age 57 of Knoxville, passed away Tuesday evening, August 1, 2017. Though unable to communicate like most of us, Kim's soul spoke to all who knew her. Always smiling, even on the darkest days, she was spared the ordinary troubles of this world. Doyle and Shirley cared for her until they were physically unable to do so. When looking for assistance with Kim's daily care, they were both blessed and relieved to find Open Arms Care - Knoxville. There Kim met new friends who would join her in life's journey. Those new adventures would only add to the priceless memories made with her parents. Kimmy frequented The Great Smoky Mountains, where she camped with her family, but also traveled across the country. Being unable to walk could not ground her spirit. She found joy in the little things and did not know how to really be unsatisfied. She would stare in awe at nature's beauty, watching birds flying and trees swaying. It was obvious that she was absorbed in everything around her and was appreciative to just "be." She accepted everything around her as it was and everyone around her as they were. She had a pure heart that was incapable of judging another. Kim found a way to speak to anyone she desired without using a single word. Equally as important, she listened. Her face and expressions were that of compassion and understanding. In a world of chaos and constant background noise that pollute our senses, she was a breath of fresh air. Yes, Kim was "different." She was not like most of us. Kim was like a star on a dark and cloudy night. If you focus on the sun on a perfectly sunny day, you will miss the stars. If we only slow down and look, we can see how beautiful those stars really are. Our world is a little darker without Kimmy, but the brightest stars shine on the darkest nights. Though she may no longer physically be here part of her will always be with each and every one of those that love her.

Kim was preceded in death by her father, Doyle Weaver. Survived by her mother, Shirley Weaver; brother and sister-in-law, Doyle (Eddie) Weaver, Jr. and Kandy Weaver; special niece, Tiffany Johnson and husband, Michael Johnson; special grand-niece, Norah Johnson; uncle, George Jenkins; aunt, Peggy Shubert; several cousins; special caretakers and friends of Open Arms Care, Inc.

The family will receive friends from 5 p.m. to 6 p.m. on Friday, August 11th at Click Funeral Home in Lenoir City. Memorial services will follow at 6 p.m. with Rev. Richard Lambert and Rev. Jeff Schrimsher officiating. A private interment will be held. Click Funeral Home, 109 Walnut Street, Lenoir City is in charge of arrangements.
Previous Events
Visitation
Click Funeral Home
109 Walnut Street
Lenoir City, TN 37771
The family will receive friends from 5 p.m. to 6 p.m. on Friday, August 11 at Click Funeral Home.
Service
Click Funeral Home
109 Walnut Street
Lenoir City, TN 37771
Memorial services will follow at 6 p.m. on Friday, August 11 in the Click Funeral Home Chapel