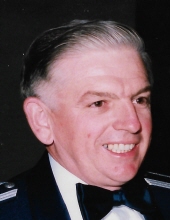 Obituary for Robert L. Groshner
Col. Robert L. Groshner, USAF Retired

Off He Goes, Into the Wild Blue Yonder… Robert Leroy Groshner passed away unexpectedly in Loudon, TN on September 14, 2017. He spent his final week doing the things he loved most: golfing, sipping a martini, and spending quality time with loved ones. Known by most as Bob, he had a smile that spread from ear to ear. Within minutes of meeting him you became his friend for life, which meant sooner or later you'd be laughing at his humorous tales, or enthralled with stories involving his Air Force experiences.
He was born to Roy L. Baker and Addie Elizabeth McMillen in Meadville, Pennsylvania on August 11, 1938. After his parents' divorce, his mother's new husband Francis Arthur Groshner became the father who shaped him. He grew up on the family farm in Guys Mills, Pennsylvania with his brother Bill and sisters Patricia and Darlene. He kept siblings on their toes while completing the tough chores that dairy farms require. Legend has it the new family house he helped build was so sturdy it would roll in one piece if a tornado ever hit!
After graduating in 1955 from Randolph-East Mead High School, Bob attended Allegheny College. He served as the Meadville Area Community Ambassador to Italy; his time there sparked a lifelong appreciation for the country's people, places, culture and food. He received his bachelor's degree from Allegheny, married his first wife Stepheny Higby, and was commissioned into the United States Air Force to train as a pilot for the F-100 Super Sabre.
Inspiring, fearless, distinguished, and jaw-dropping are a few of the adjectives describing Bob's first career serving in the United States Air Force for 30 years. As typical in the Air Force, he received many assignments over his career. His operational career started at RAF Lakenheath Air Base in England in the F-100 Super Sabre. He deployed to Vietnam, where he flew a remarkable 222 combat missions – he forever cherished his Super Sabre cohort. Following his return to the states, he was assigned as a medical research pilot at Kelly AFB in San Antonio, Texas. There he became the second man to sustain 9-g's in a centrifuge and flew the NF-100F on weightless training exercises that included astronauts (and a cat). He again deployed, this time to the Korat Royal Thai Air Base in Thailand, while the family remained in San Antonio. Upon his return, Bob moved with his children, Maria, Vikki, and Scott, to Davis Monthan AFB in Tucson, where he served as a Squadron Commander and trained pilots on the A-7 and A-10. There he met his second wife, Elizabeth Pollard and her son Dale. Bob was a member of the Joint Test Team that evaluated the A-10 and attack helicopters for high threat scenarios. He then became director of the Tactical Air Command Systems Office at the Electronic Systems Division at Hanscom AFB in Massachusetts. He commanded the Northern Arizona University AFROTC program where he groomed future AF officers in Flagstaff, AZ. His final assignment was as Commander of the Air Force Drug Testing Laboratory at Brooks Air Force Base in San Antonio.
While in the Air Force, Bob received a master's degree in chemistry from St. Mary's University in San Antonio. He retired as a full Colonel, and throughout his service he received the Distinguished Flying Cross, the Meritorious Service Medal with one oak leaf cluster, the Air Medal with eight oak leaf clusters, and the Air Force Commendation Medal.
After retiring from the Air Force, Bob turned an appreciation of golf into his second career, earning a degree in golf management at the San Diego Golf Academy, and graduating Valedictorian of his class. He played a key role in the Research and Development department at Callaway Golf in Carlsbad, CA., building clubs for many professional golfers, celebrities and dignitaries, including a club presented to President Bill Clinton. Additionally, he oversaw a Quality Assurance program to insure new designs and tools were Best in Class.
Prior to his arrival at the Golf Academy, Bob was introduced to Theresa (Terri) Shawhan through her son Karl, one of Bob's gifted students in the AFROTC Program at NAU. Recalling that Terri lived in San Diego, he looked her up when he arrived in town, and the rest is history. Bob and Terri dated for over 12 years, and in 2006 their union was solidified at a fun-filled marriage ceremony in Vegas, with their children and loved ones cheering them on. Bob became a cherished and revered Dad to Terri's daughter Kim and her sons Kevin, Kelly, Kirk, Kerry, and Karl. Bob loved his role as Dad and was always available to give his children unconditional love, advice, or to lend a hand. Bob and Terri moved to Tellico Lake Village in Loudon, TN and built a home off the second tee of Toqua Golf Course. This was Bob's final "paradise on earth" and he relished every minute of it. He took great pride in the several hole-in-ones he made throughout his golfing years. Bob and Terri traveled extensively, attending various school and F-100 reunions, cruising and touring the world, and traversing the country to visit family. He played cards fiercely, was on a softball league into his 70s, and was a keen aim with horseshoes; that is, when you could get him off the golf course!
Bob will be dearly missed by his surviving family: wife Terri; brother Bill Groshner and his wife Betsy; sister Patricia and her husband Jim Alexander; sister Darlene and her husband Robert Marr; children and their spouses Maria Groshner; Vikki and her husband Tony Brown; Scott Groshner and his wife Debra; Kevin Shawhan and his wife Jackie; Kim Urbanek; Kelly Shawhan and his wife Sarah; Kirk Shawhan and his wife Mary; Kerry Shawhan; Karl Shawhan and his wife Amber; Dale Pollard, as well as numerous grandchildren, great-grandchildren, nieces, and nephews.
Friends may call at their convenience at Click Funeral Home 109 S. Walnut Street, Lenoir City, TN 37771. Memorial services will be held at the Community Church at Tellico Village on Tuesday 9/19 at 2 p.m. and at later dates in Pennsylvania and California. To honor his pride in serving our country, burial will be in Arlington National Cemetery.
Anyone seeking to make a donation in Col. Robert Groshner's name is encouraged to do so at the Smithsonian National Air and Space Museum at (https://airandspace.si.edu/support/donate) or the Veterans of Foreign Wars at https://heroes.vfw.org/eaaction/action?ea.client.id=1993&ea.campaign.id=49903
Arrangements are being made through Click Funeral Home - Tellico Village Chapel in Loudon, TN.
Previous Events
Service
The Community Church at Tellico Village
130 Chota Center
Loudon, TN 37774
Cemetery Details
Location
Arlington National Cemetery
Grant Avenue
Arlington, VA 22211