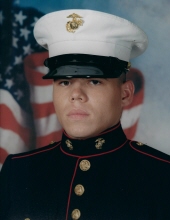 Obituary for Sergei Thomas Bolen
Sergei Thomas Bolen died September 30, 2017. Sergei was born in the Vladimir Region of
Russia and moved to the United States in 1998. He graduated Farragut High School in May
2004, and joined the US Marine Corp. He was a Corporal in the USMC and served multiple combat tours in Iraq and elsewhere, and was a member of the 4th Marine Expeditionary Brigade/Anti-Terrorism Battalion, STA/Weapons Platoon, Bravo Company, out of Camp Le Jeune. He received numerous service ribbons and commendations, including a Combat Action Ribbon (Iraq), Marine Corps Good Conduct Medal, Sea Service Deployment Ribbon, Global War on Terrorism Service Medal, and National Defense Service Medal. He held a Rifle (Expert) and Pistol (Marksman) Qualification Badge, and received an honorable discharge from service in 2008. Sergei earned an Associates Degree in Criminal Justice in 2011.

Sergei is survived by his natural brother, Samuel Alexander Bolen, and his wife Svetlana, and
niece (Sarah) and nephew (Leone); his mother, Jennifer Bolen, and adoptive father, Forrest
Pardue, and extended family siblings Phillip and Mary Pardue; his grandparents, Don and Jan
Bolen, and aunt Janelle Bolen Sideris (fondly known as "Jelly") and her family, husband George,
and their son, Nikos.

Sergei is also survived by his combat brothers, Richard Caldwell of Knoxville, TN, Corporal Honorable Discharge, First Battalion, First Marines, and Sergeants Baltimore, Beard, Campbell, Pickett, Snyder, and Watkins; Corporals Abraham, Algas, College, Cook and Milles; and Doc HM3 Askew.

Sergei lived a simple life and was known as a trusted friend to so many. His mother fondly
referred to him as her "Sero Bug", whose only dream when she met him in Russia was to be a
US Marine. You made it honey. You are loved and will be greatly missed.

The family will receive friends on Wednesday, October 4, 2017, from 4 to 6 pm at Click Funeral Home, 109 Walnut Street in Lenoir City. Graveside services and military honors will be conferred at 9:30 a.m. on Thursday, October 5, 2017 at the East Tennessee State Veteran Cemetery at 2200 East Gov. John Sevier Highway, Knoxville, TN 37920. In lieu of Flowers, please consider donation to Camp Hope, a non-profit organization serving combat veterans and others - 9724 Derrington Rd., Houston, Texas, 77064. Click Funeral Home, 109 Walnut Street, Lenoir City is in charge of arrangements.
Previous Events
Visitation
Click Funeral Home
109 Walnut Street
Lenoir City, TN 37771
The family will receive friends from 4-6 p.m. Wednesday, October 4th at Click Funeral Home in Lenoir City
Graveside
East TN State Veterans Cemetery
2200 E. Gov. John Sevier Hwy.
Knoxville, TN 37920
Family and friends will gather at 9:30 Thursday in the East Tennessee State Veterans Cemetery on John Sevier Highway in Knoxville for graveside services and miitary honors.
Cemetery Details
Location
East TN State Veterans Cemetery
2200 E. Gov. John Sevier Hwy.
Knoxville, TN 37920