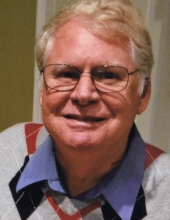 Obituary for Thomas O. Sheets
Thomas O. Sheets, career educator who had a passion for travel and never missed an opportunity to see his sons compete in sporting events, died Saturday, April 1, 2017 at 12:58 a.m. at his residence, The Neighborhood of Tellico Village. He was 69.

Thomas grew up in Michigantown, Indiana graduating from Clinton Central High School in 1965. He severed in the U.S. Navy as a radar technician. He was proud of his four degrees from Purdue University including a Doctorate of Education. He taught Vocational Electronics for 32 years in the Kokomo Center Township Schools. Following retirement, Tom and his wife Jane retired to East Tennessee to the Kahite Neighborhood of Tellico Village.

Jane and Thomas were married in Michigantown, IN on August 22.1970. They have three sons, Alexander (Naomi Miyamoto) of Englewood, OH, Evan (Tyler Ann McGuffee fiancéʹ ) of Michigantown, IN, and Joel of Indianapolis, IN; grandson Coen Sheets. Survivors also include brothers, Theodore (Margaret) of Carmel, IN and Timothy of Michigantown, IN; sisters Toni (Mike Linson) of Murfreesboro, TN and Tracey (Jim Goldsberry) of Carmel, IN; several nieces and nephews.

He is preceded in death by his parents, Britta and Robert Sheets; grandparents Ernest and Helen Sheets and Faye and Della Stokes (Kelly).

A Memorial service in Tennessee will be held on Friday, April 7, at the Neighborhood at Tellico Village at 2:30 p.m. in the Lecture Hall. A reception will follow the service at the Neighborhood. In lieu of flowers, contributions may be made to the Hopewell Fire Department in Thomas honor.

On April 15 a memorial service will be held at Arborwood, 100 North Park Drive, Frankfort, Indiana. A reception will be held at 3:00 p.m. to reminisce with the family, and the memorial service will be held at 5:00 p.m. Contributions in memory of Thomas may be made to the Michigantown Little League.

Click Funeral Home & Cremations - Tellico Village Chapel is serving the family of Thomas Sheets. www.clickfuneralhome.com.
Previous Events
Service
Family Home
Family Home
303 East Second Ave.
Lenoir City, Tennessee 37771
In the Lecture Hall