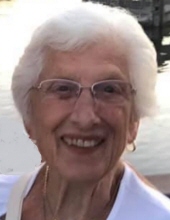 Obituary for Carol Todd
Carol Todd, age 86 of the Tellico Village Community Loudon, Tennessee passed away March 11, 2019.

Carol was a member of The Community Church at Tellico Village and part of the Church Crafters. She belonged to many organizations in the Village over the years: bridge and euchre groups, badminton, Canadian Connections, the GM club, and others. She was also a lifelong member of the Beta Sigma Phi sorority.

She was preceded in death by her husband, John (Jack) H. Todd and her son, Douglas Todd.
Survivors include her daughter Sandra (Larry) Cook; sons Richard (Kathy) Todd, John Todd, Allan Todd; grandchildren Isaac & Seth Todd and Thomas (Celena), Jeffery, Nancy & Christy Balewski; and 4 great-grandchildren.

A Service will be held on Saturday, March 23, 2019 at 11:00 a.m. in the Founders Chapel of the Community Church at Tellico Village. The family will receive friends immediately following the service.

In lieu of flowers, memorials may be made to the church or to the American Heart Association.
Upcoming Events
Service
The Community Church at Tellico Village
130 Chota Center
Loudon, TN 37774