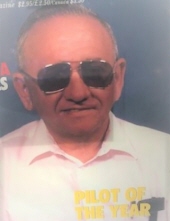 Obituary for Clarence Robert (Bob) Abercrombie Jr.
Clarence Robert (Bob) Abercrombie Jr. passed away peacefully at Summit View of Farragut, TN at 12:45 am Tuesday morning October 23, 2018, at the age of 84 after a long battle with Parkinson's disease. Bob is survived by his wife of 63 years, Midge Abercrombie of Lenoir City, TN; daughters, Debbe Childress and husband Mike Garrett, Kathy Lynch and husband James Lynch both of Knoxville, TN; brothers, Don Abercrombie of Nashville, TN, and Steve Abercrombie of Lenoir City, TN; grandchildren, Megan Bullington and husband Steve, Zachary Lynch and wife Jessica, Brittany Brooks and husband Jay, Bethany Gallup and husband James, Pierce Childress, Ian Lynch and wife Ashley; along with 10 great-grandchildren. He is preceded in death by his parents C.R. and Mary Abercrombie, and brother Joe Abercrombie.
Bob was born on December 7, 1933 to C.R. (Jim) Abercrombie Sr. and Mary Rebecca Abercrombie. He graduated from Lenoir City High School in 1952, after which he served his country in the National Guard for three years. Bob retired from the Y-12 plant in Oak Ridge after 37 years. After retirement, Bob was able to fulfill a lifelong dream of becoming a pilot and was able to take many family members for flights around East Tennessee.
Bob will be remembered as a good husband and father to his two daughters, both of whom never stopped calling him Daddy, and as the best Papaw in the world to his six grandchildren. He was truly a wonderfully kind person, loved by all who knew him well.
A private family funeral will be conducted in Bob's honor. The family requests that, in lieu of flowers any remembrance be made as a donation to the American Parkinson Disease Association in memory of C.R. Abercrombie Jr. We would also like to extend our appreciation to the staff at Summit View of Farragut for their excellent care of Bob during his stay.
Events