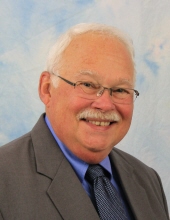 Obituary for Denny Brandon
Denny Lee Brandon passed from this life and went to his reward by the grace of Jesus, Sunday, November 11, 2018 after a brief illness at Vanderbilt Medical Center.

He was born August 29, 1947 in Tuscola, Illinois and preceded in death by his parents, Max and Betty (Dyar) Brandon.

He is survived by his wife of 50 years, Marilyn (Fenton) Brandon, and by one son, Aaron Brandon of Wilmington, Ohio, by two grandgirls, Chloe Williams and Miranda Thrasher, and by two brothers and their wives, Darrel (Sandy Fishel) Brandon of Minier, Illinois, and Don (Deanne Fiensy) Brandon of Johnson City, Tennessee, and by one sister and her husband, Debbie (Mike) Kilgallin of Ferryville, Wisconsin, and by a foster sister and her husband, Maurine (Harvey) Collett of East Peoria, by loved ones, Cindi Williams, Trevor Thrasher, brother-in-law Ken (Linda) Fenton, and by sister-in-law, Evelyn Fenton Bond, as well as by 13 nieces and nephews and many other relatives and countless friends.

The life of Denny Brandon was unique and very full. He graduated from Eastern Illinois University with an Education degree in English and history, along with minors in Russian, economics, political science, and geography. He also received his master's degree in English literature. He taught high school English for 7 years. In 1992 Denny received an additional master's degree in business administration from Xavier University, Cincinnati, Ohio. In 1980, a new career was begun in management with 3M Corporation, first in Cincinnati, and later in Minneapolis, Minnesota. His work sent him to many corners of the globe and almost every continent in the world.

He and Marilyn retired in 2007 and became a vibrant part of the Tellico Village community near Loudon, Tennessee, as well as taking an active role with the Community Church of Tellico Village, their Men's Bible Class, and by being a facilitator with Kairos Prison Ministry where Denny traveled to area correction facilities and spent weekends with prisoners teaching the Gospel of Jesus Christ. As a result of Kairos efforts, recidivism is reduced on average by more than 50%.

Denny Brandon loved learning. His special love for current events, world affairs, history, music, and finance made him an expert in many fields. He researched out the genealogies of his family line and was a member of the Sons of the American Revolution.

A celebration of the life and a funeral service for Denny Brandon will be held at 11 AM, Monday, November 26, 2018 at The Community Church at Tellico Village, 130 Chota Center, Loudon, Tennessee. The family will receive friends immediately following the service. Burial will be in Wayne City, Illinois at a later date.

In lieu of flowers, memorials may be made to the Community Church of Tellico Village, Kairos Prison Ministry (www.kairosprisonministry.org), or a charity of choice.
Previous Events
Service
The Community Church at Tellico Village
130 Chota Center
Loudon, TN 37774
The family will receive friends immediately following the service.