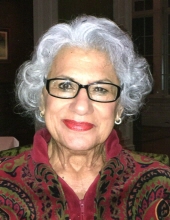 Obituary for Fran (Efrossiny) Hilborn
Fran (Efrossiny) Hilborn, age 85 of the Tellico Village Community passed away February 20, 2019 at her home.

Fran was born on January 16, 1934 in Brooklyn New York to parents John and Polixeny Pothews.

She was preceded in death by her parents; her brother and one step-son. Survivors include her husband of 39 years, Robert Hilborn; 4 children; 7 grandchildren; 3 step-children; 8 step-grandchildren; 1 step-great-grandchild; and many extended family members.

A Memorial Service will be held on Saturday, March 23, 2019 at St. Phillips Episcopal Church, 100 Romeo St, Rochester, MI 48307. The family will receive friends from 10:30 - 11:00 a.m. with the service to begin at 11:00 a.m.

In lieu of flowers, memorials may be made to St. Jude Children's Research Hospital, PO Box 1000 Dept. 142, Memphis, TN 38101-9908.
Upcoming Events
Service
St. Phillips Episcopal Church
100 Romeo Street
Rochester, MI 48307