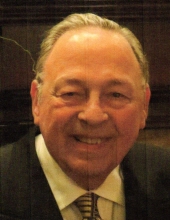 Obituary for Irwin Miller
Irwin Miller, age 90 of the Rarity Bay Community Vonore, Tennessee passed away November 22, 2018 at his home after a long hard battle which began on December 15, 2015 from five strokes, pneumonia, cancer surgery, diabetic coma and months and months of extensive physical therapy. Irwin was the husband of Marylees Miller.

Irwin graduated from Alfred University in 1950; earned his MS from Purdue University in 1952 and his PH.D. in Statistics from Virginia Tech in 1956. He was a veteran of the US Army. Irwin had a lengthy career and was co-owner of Miller and Miller at the time of his death.

The Millers have lived in Rarity Bay for 13 years. Irwin had found peace and contentment in Rarity Bay and stated shortly after arrival here, "this is where I intend to live until I die." He served as a member of the Safety and Security Committee and was also a member of the Men's Poker Group, Men's Pool League, Yacht Club and Rarity Bay Ad Hoc Opera Committee.

Irwin celebrated his 90th birthday on July 3, 2018. He is survived by his wife of 30 years; Marylees Miller; three children - his daughter Dianne and her husband Carl and their children: Tamara and her husband Andrew and their sons Mason and Carter; Carlyn and her husband Russell and their daughters Amelia and Emma; and Molly; his son David and his wife Carol and their children: Allison and her husband Tyler; Tyler and Sarah; and his son Paul and his wife June and their son Samuel and his wife Brittany.

He was preceded in death by his father, Samuel Miller (1969) and his twin brother Howard Miller (1996).

Per tradition, Irwin's ashes will be inurned at Mount Auburn Cemetery in Cambridge, MA. A Celebration of a Life Well Lived will be held in the near future.

If you would like to make a memorial gift in Irwin's honor please do so to the Rarity Bay First Responders, PO Box 572, Vonore, TN 37885-0572.