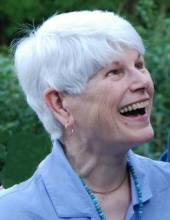 Obituary for Paula O'Brien
PAULA DEE O'BRIEN Paula Dee O'Brien, 74, passed away peacefully in her home in Tellico Village in Loudon, Tennessee, on November 13th, 2018.

She is survived by her husband of nearly 50 years, James Luke O'Brien, her three children, Jenifer Anne Moses and her husband, Harry Neal Moses II, Molly O'Brien Pierce and her husband, Brian Parker Pierce, Eamonn Patrick O'Brien and his wife, Tara Walker O'Brien, and her six grandchildren: Grace, Tadhg, Harry, Eabha, Curdelia, and Harriette. The only child of Army Captain Paul Joseph Mattson and Curdelia Lee (Carter) Mattson,

Paula was born in Camp Stoneman, California on May 13, 1944. As a young girl, she lived for a short period in Munich, Germany, before moving back to California where she grew up, went to college, at Sacramento State College, began teaching first grade, and married. She moved East shortly after marrying Jim and began her family. She and her family lived in the picturesque village of East Blue Hill on the Maine coast for close to twenty-five years. First, when her children were young, Paula stayed home. She later returned to the classroom to teach before finally joining Jim in the family's hardware store.

In 2001, she and Jim officially retired and moved South. After seven years in Virginia, where they enjoyed cruising up and down the Intracoastal Waterway, they finally settled in the Smoky Mountains of Tennessee, where she and Jim became avid RVers. Known for being the first to volunteer to organize local activities and events, such as quilt shows, yacht club luncheons, library book sales, or local co-ops,

Paula was most known for her quilting. Paula comes from a long-line of women with a talent for handwork: knitting, sewing, embroidery, crocheting, and quilting. Like them, Paula could do magical things with a needle and thread. However, Paula's most proud accomplishment is her marriage of nearly half a century to her husband, Jim.

Funeral services will be held Tuesday, November 20th at 11:00 a.m. at St. Thomas the Apostle Church in Lenoir City. In lieu of flowers, please make a donation to a charity of your choice.
Previous Events
Service
St. Thomas the Apostle Catholic Church
1580 St. Thomas Way
Lenoir City, Tennessee 37772