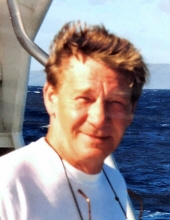 Obituary for Ronald E. Herzog
Ronald E. Herzog, age 77 of Loudon, Tennessee passed away February 25, 2018.

He is preceded in death by his parents Henry and Helen Herzog, his brothers Richard and Gerald, and his sister Joann.

Ronald is survived by his wife Marsha A. Herzog. Survivors also include his daughter Stephanie (Steven) K. Daigle, his sons Scott (Holly) M. Herzog and David A. Herzog. He is also lovingly remembered by his grandchildren Kyle L. Daigle, Kevin S. Daigle, Rachel C. Herzog, Trent M. Herzog and Jessica M. Herzog and many nieces and nephews.

Ronald was a proud US Navy veteran who served aboard a Destroyer during the 1962 Cuban Missile Crisis. Ronald loved the sea, good friends, and family and will be dearly missed.

A Celebration of Life will be held at 1:30 pm on May 12, 2018 at Click Funeral Home – Tellico Village Chapel, 145 Chota Centre, Loudon, TN 37774.

In lieu of flowers, memorials may be made to the Tellico Community Foundation, www.etf.org/tellico.