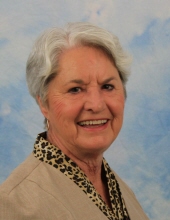 Obituary for Ann G. Autry
Patricia Ann Grady Autry of Loudon, Tennessee at age 75 passed away on Friday March 2 in the presence of her family at University of Tennessee Medical Center. Ann as she was known was born in Dalton, Georgia on March 30, 1942. She grew up in Griffin Georgia where she was educated. She also attended Bolen-Draught Business College in Savannah.
Ann and her husband James (Jim) J. Autry native of Conway, South Carolina in Horry County, of 56 years met in Atlanta, Ga while working for then Atlanta Gaslight Natural Gas Company. They were married on June 1, 1962 in Inman Park Baptist Church. They have three wonderful sons: William E.(Ed) Autry (Lucy) of Acworth, Ga; Richard A. Autry of Loudon, Tn; and Jason P. Autry (Amanda) of Suwanee, Ga.
She is the daughter of deceased parents Clifford I. Smith and Elizabeth B. Smith of Spaulding County Georgia.
She is survived by grandchildren Devin (32), Stacy (31), Emily (10), Jacob (7) and 4 great grandchildren; Brothers Roy Smith (Jane) and Glenn Smith (Marie) both of Spaulding County Georgia.
Ann was most recently President (2016-17) of the Good Neighbors Shoppe a volunteer managed thrift shop in Lenoir City, Tn. She was one of its founding volunteers. She also organized and initiated the Tellico Village Stain Glass Guild.
She loved to garden in her beautiful yard as well as gardens of her neighborhood and Tanasi Golf course. She was an outstanding talented cook and home decorator with displays for every season and holiday including Mardi Gras. She was a lover of animals both domestic and wild. She most recently has raised a year-old Shih Tzu puppy named Honeybun. She always looked for and traveled to see Bald Eagles and Hawks. She loved to travel with Jim all over the world to such destinations as Hawaii, Kenya, Russia, Australian/New Zealand to name a few.
She has so many friends and showed her love for everyone from all places she and Jim lived in Georgia, Louisiana, Kentucky, Texas, Germany, and now Tellico Village in Loudon, Tn. She was surely an Angel of God placed on Earth to serve and love us all.
A Celebration of Life will be held on Saturday, March 10, 2018 at 2:00 p.m. at The Community Church at Tellico Village. The family will receive friends immediately following the service.
In lieu of flowers, the family request that donations be made to either of Ann's most favorite concerns:
Smokey Mountain Service Dogs – 110 Tooweka Circle, Loudon, TN 37774.
Community Church at Tellico Village Kitchen Equipment Modernization – 130 Chota Center, Loudon, TN 37774.
Click Funeral Home & Cremations – Tellico Village Chapel is serving the family of Ann Autry.
Previous Events
Service
The Community Church at Tellico Village
130 Chota Center
Loudon, TN 37774
The family will receive friends immediately following the service.