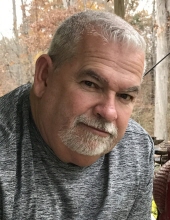 Obituary for Kenneth A. Stinnett
Kenneth "Clem" Allen Stinnett, of Lenoir City, age 59, passed away April 16, 2018, after a brief illness in the hospital. He was a loving and devoted man of God, father, son, brother, grandfather and husband. To know Kenny was to be blessed. He is preceded in death by his father, Clarence Stinnett, niece, Tabitha Helton, and great-nephew Easton Abercrombie. He is survived by his mother, Nellie Jo Stinnett, wife, Lisa Stinnett, children, Jeremiah Stinnett and wife Shannon, Tina Gilreath and husband Adam, Margaret Riley and husband Cameron, his grandchildren Abigail Woodall, Addison Woodall, Scout Gilreath, and Jeremiah "Alex" Stinnett. He also leaves behind brothers Ron and wife Rhonda, Harold and wife Carolyn, sisters Claudia Coleman and husband Robert, Rebecca Rabin and husband Matthew, Kimberly Stinnett, and Bernadette Wilson and husband Scottie, and numerous nephews and nieces. There will be a Celebration of his life on May 31, 2018, 7:00pm at First Church of God, 194 Finley Drive, Lenoir City, TN. Please come with a funny story of Kenny to share. In lieu of flowers, the family asks that you give a donation to the NRA in Kenny's honor. www.donate.nra.org/donate. You may also give a special donation in his honor to your home church.
Previous Events
Service
First Church of God
194 Finley Drive
Lenoir City, TN 37771
A Celebration of his life will be held at 7 p.m. on Thursday, May 31st at First of God in Lenoir City.