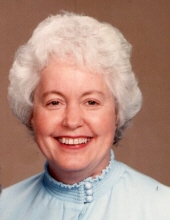 Obituary for Jeannette Katherine Stoothoff
Jeannette Katherine McCalley Stoothoff passed away on May 12, 2018 at the Ft. Loudoun Medical Center at age 85. She was preceded in death by her son, Timothy, who only lived four months; her parents, Earl and Verona McCalley and her older sister, Jean Bachman.

Jeannette graduated from Ross High School just south of Hamilton, Ohio in 1951. She was May Queen, participated in many school plays, and made the honor society.

After high school, she got a stenographer's job with Fernald Nuclear Plant south of Hamilton, Ohio. In December of 1951, she met her husband to be, Richard Stoothoff. Richard was attending General Motor's Institute Engineering Program, a 5-year co-op program. One of his fraternity brothers had married Jeannette's older sister, Jean, and he thought that Richard might want to meet Jeannette, so he set up a date to go to Castle Farm Dance Hall where they had a big band dance, and it was love at first sight.

The engineering plant at GMI had Richard spend alternatively 8 weeks at school and 8 weeks at Fisher Body in Ohio, and they continued to date. When he finished his 4-year school portion, they got married on August 15, 1953. Richard finished his last year of the program at the Fisher Body Plant and Jeannette continued to work at Fernald. In 1955, her husband was drafted into the army, even though Jeannette was pregnant. After basic training, he got home on a Saturday night at 7:30 and baby Terri was born at 3:00 Sunday morning. He was assigned to Red Stone Arsenal in Huntsville, Alabama, and since he was married, he was allowed to live off base and was able to get an apartment and bring Jeannette and Terri down to Huntsville. After 6 months, he was transferred to Santa Monica, California to oversee a rocket contract Red Stone had at Douglas Aircraft. After discharge, they moved to Pontiac, Michigan where her husband had a job with a company designing anti-tank missiles for Red Stone Arsenal. That job only lasted 1 1/2 years, and her husband was lucky enough to get a position General Electrics jet engine facility in Cincinnati, Ohio. While in Michigan, their son, Kirk, was born and later sons Scott Andrew and Richard, Jr. in Cincinnati.

Jeannette was very active in school and became PTA President 2 years in a row. They then moved to a different location and Jeannette worked for a friend who had a preschool nursery. After that, she worked as a receptionist for a dentist. Following that, she became a bookkeeper for a drug rehab facility for young kids and teenagers. After that she got a gob as office manager for a company that was buying auto sheet metal parts from a company in Vietnam and spent a lot of time on the phone with that country. In 1990, they retired and moved to Tellico Village, Tennessee. They bought a townhouse overlooking Tellico Lake and the Yacht Club, with views of the Cumberland Mountains to the north and Smoky and Cherokee Mountains to the south.

Jeanette and Richard loved boating and traveling and had many wonderful trips while living in Ohio and Tellico Village. They joined the Tellico Village Community Church where Jeannette sang in the choir, worked with the crafters group, and joined the actors group the church put together where she had the lead in a Christmas play.

They had many friends and family visitors to come see the lake and mountains and do some boating. Jeanette is survived by her husband, four children, two grandchildren, three great grandsons, and her brother, Bill. She had a sweet disposition throughout her life.

A service will be held for her on Thursday evening, May17, 2018 at 6:00 p.m. at Click Funeral Home Chapel, 145 Chota Center, Loudon, Tennessee.

In lieu of flowers, memorials may be made to the Alzheimer's Association.

Click Funeral Home & Cremations - Tellico Village Chapel is serving the family of Jeannette Stoothoff.
Previous Events
Service
Click Funeral Home and Cremations Tellico Village Chapel
145 Chota Center
Loudon, TN 37774
The family will receive friends immediately following the service.