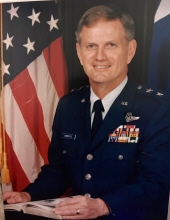 Obituary for Shirley M. (Sam) Carpenter
Major General Shirley "Sam" Carpenter, USAF Retired, from Loudon, TN was born in Orange County, Virginia July 22, 1937 and went to be with our Lord and Father on June 1, 2018. He was at home with his 4 children (David, Dale, Scott, Kristi) and wife of 57 years ("Ruthie"). His death was preceded by his father, Ruby Myers Carpenter; mother, Hallie Pearl Carpenter; sister, Ruby Garrett; and brother, William Hilton Carpenter. Aside from his four children and
wife, he also leaves behind 7 grandchildren, one great grandchild and scores of loved ones, friends and peers that have been forever impacted with positive lasting memories.

General Carpenter was recruited away from Mathew Whaley High School in Williamsburg Virginia to play football for the University of Virginia with a young Don Shula, the running back coach at that time. He earned a full football scholarship as a "halfback", enrolled in Air Force ROTC and studied Psychology. After his graduation from UVA in 1960, he joined the USAF where he attended the first all jet pilot training class. He later completed a Master's Degree in Counseling and Guidance from Troy State University.

General Carpenter's military career spanned 39 years, during which he completed Squadron Officer's School, Air Command and Staff College and the prestigious National War College. His last two assignments were based at the Pentagon where he served as the Deputy to the Chief of the USAF Reserves and Director of the Reserve Forces Policy Board. His distinguished flying career included more than 8700 flight hours, 83 combat missions to the Republic of Vietnam, and numerous military decorations including the Small Arms Expert Marksmanship Ribbon with Device, Air Force Training Ribbon, Combat Readiness Medal with 4 Devices, Armed Forces Reserve Medal with Device, Republic of Vietnam Campaign Medal, Republic of Vietnam Gallantry Cross with Device, Air Force Outstanding Unit Award with 3 devices, Air Force Organizational Excellence Award with Device, Armed Forces Expeditionary Medal, Defense Distinguished Service Medal, Meritorious Service Medal, Air Medal, Air Force Commendation Medal, Presidential Unit Citation, Combat Readiness Medal with 4 oak leaf
clusters, Legion of Merit, Vietnam Service Medal with 3 Devices, National Service Medal with Device, Longevity Service Award with 8 Devices.

General Carpenter's professional career included "Loyal and Dedicated Service" and "Flying With Distinction" for Trans World Airlines (TWA) from 1968 to 1997 achieving the level of Captain. Post TWA and Military, General Carpenter worked as a professional consultant with Volga Dnepr and the Department of Defense brokering transportation for the USAF.

He never met a stranger; was quick to help others in need; had a talent for making the complex simple and the most serious of characters laugh. He set a high bar but managed to lift all that were with or around him. He was a strong Christian man that was honest, hard-working, loyal and eternally optimistic about the best is yet to come. Please join in celebrating his life and passing with a prayer, toast, smile and hug. The world lost one hell of a man, fondly known by family and friends as "Sam", "The General" or "General Sam". May he rest in peace.

A celebration of his life will be held at the Tellico Village Community Church at 2PM Sunday, July 22 2018. Burial will be in Arlington National Cemetery at a later date.

In lieu of flowers, the family has asked donations to be made to The Wounded Warrior's Foundation, Community Church of Tellico Village, Tellico Village Fire Department or Disabled American Vets.

Click Funeral Home & Cremations - Tellico Village Chapel is serving the family of Sam Carpenter.
Previous Events
Service
The Community Church at Tellico Village
130 Chota Center
Loudon, TN 37774