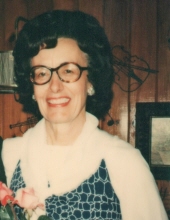 Obituary for Delene Tuley Hargis
Delene Tuley Hargis, age 98, passed away on Friday night, June 8, 2018. She had lived in Lenoir City since June 1953. She was born in Trimble, TN, a tiny town a few miles east of the Mississippi River, to William M Tuley Sr and Fannie Belle Pierce Tuley. Delene was born to play the piano, and she was not just a pianist, she was an artist on the ivories. She started giving piano lessons at the age of 17 in a rural school near Carthage TN where she grew up. She taught piano to many, many students in Eaton's Crossroads and Lenoir City, and she played for Sunday School and Church for decades. One of her favorite partnerships was playing for Janice Shea to sing, and these two ladies performed together for over 40 years. She was a member of Central United Methodist Church, and she was previously a member of both Faith Fellowship Cumberland Presbyterian Church and Trinity United Methodist Church all of Lenoir City.

Delene was preceded in death by her husband, Edmund Hargis, parents, William M and Fannie Belle Tuley of Carthage TN, her brother, William (Bill) M Tuley Jr of Carthage TN, and her sister, Frances Tuley Coleman of Madison, TN. She is survived by her brother, Robert Tuley of Hattisburg, MS, daughter, Sylvia Hargis Percy of Columbia TN, her daughter, Patricia Hargis Tuley of Mountain Center CA, her son, Brian H Hargis of Lenoir City TN, her grandsons Stuart H Graham of San Diego CA, W Scott Graham of Chattanooga TN, Eric J Graham of Nashville TN, and Craig R Graham of Salem OR. She is also survived by her great-grandchildren Alex Curtis, Andrew Graham, and Allison Graham of Chattanooga TN.

A memorial service will be held Sunday July 15, 2018 at Click Funeral Home Lenoir City TN at 2:00 pm with visitation starting at 1:00 pm.
Previous Events
Visitation
Click Funeral Home
109 Walnut Street
Lenoir City, TN 37771
The family will receive friends from 1 p.m. to 2 p.m. on Sunday, July 15th at Click Funeral Home in Lenoir City.
Service
Click Funeral Home
109 Walnut Street
Lenoir City, TN 37771
Memorial services will follow at 2 p.m. on Sunday, July 15th in the Click Funeral Home Chapel.