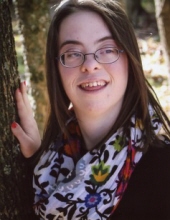 Obituary for Stephanie Elizabeth Murray
Stephanie Murray, age 31 of the Rarity Bay community in Vonore, TN passed away on July 9, 2018 surrounded by family.

Stephanie enjoyed an active life filled with creative pursuits, travel and loving relationships. Among her favorite things were road trips, scrapbooking, Wii games, watching The Voice and keeping in touch with those closest to her through email, texting and FaceTime. She had a special passion for singing and dancing and her greatest joy was holding frequent concerts to entertain loved ones. Steph was a special blessing to her family and friends and will be greatly missed by all that knew her.

Stephanie was preceded in death by her grandparents, Francis and Margaret Murray, and Thomas and Jewell Gordon; her aunt, Linda (Gordon) Thurber; and her uncle, Michael Murray.

Survivors include her devoted immediate family: parents, Timothy and Pamela Murray, brother and sister-in-law, Chris and Shelly Murray, and nephews, Caleb and Braden Murray.

She was also survived by her loving uncles, aunts and cousins: Tommy and Sue Gordon, cousins Tristan, Bryan and Savannah Gordon; Phil and Sandy (Gordon) Colangelo, cousins Matt Mueller, and Thomas and Sam Colangelo; Rick and Mary (Murray) Alexander, cousins Patrick and Jack Barrett; Danny and Molly (Murray) Nalls, cousins Frank, Dennis, Kayla and Chase Nalls; and cousins Cara (Murray) Turner, Kelly (Murray) Davis and Samantha Murray. Also, dear to Stephanie were too many extended family members and friends to mention individually.

The family will receive friends from 2:00 p.m. to 4:00 p.m. on Saturday July 14 at Click Funeral Home, 109 S. Walnut Street, Lenoir City, TN 37771

In lieu of flowers, memorial donations may be made to St. Jude Children's Research Hospital.
Previous Events
Visitation
Click Funeral Home
109 Walnut Street
Lenoir City, TN 37771