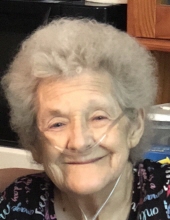 Obituary for Kathleen Logsdon
Kathleen Logsdon, 76, wife of Charles Logson, passed away Wednesday night, August 29, 2018, after a long fight with cancer. She was born March 21, 1942 in Fort Fairfield Maine, the daughter of the late Harold and Annie Whitmore. Kathleen married Charles Logsdon on October 1, 1960, a true love story, he was her soulmate and she was his. She was born and raised in Fort Fairfield Maine, She was a hard worker whether it was farm work, housekeeping or staying at home taking care of her family. Kathleen enjoyed playing cards, listening to Elvis, and spending time with her family. She was preceded in death by her one brother, Harold Whitmore Jr. Survived by her husband Charles Logsdon of Lenoir City TN, and their four children Lori Fleming and her husband Ted of Lenoir City TN, Sheri Fleming and her husband David of Fort Fairfield, Maine, her son Marc Logsdon and his wife Grace of Pasadena Maryland, Charleen Logsdon of Lenoir City TN; a brother George Whitmore and his wife Pauline; brother-in-law James Logsdon of New Hampshire. She is survived by 8 grandchildren, Shannon Jalbert her husband Robert their two children Hilary and Brandon, David Lee Fleming and his three children Jacqueline, Kelsea and David Shane, Heather Fleming, Stephen Logsdon, Marc Jayson Logsdon and his wife Adelina and their son Jhayden, Sabrina Carroll and her three children Addison, Shaylnn and Ryland, Jared Elliott, Abagail Elliott. A special niece who was more like a daughter to her Kim McDougall. As well as Tina Garcia, Samantha Henry and Lee Morris and Ray Carroll, who were also her grandchildren by heart. She will also be missed by her friend and a lady with whom she shared many grandchildren with Shirley Fleming of Fort Fairfield Maine. She had many people who called her Mom and Gram over the years and will be missed by them all. She will also be missed by aunts and uncles and cousins. A special thank you to Natalie Roberts, you were her nurse but went above and beyond that call and she loved you. To the Hospice Workers of Caris, Bethany, Bonnie, Erin, Paula and April, you all treated her with dignity and respect. In lieu of flowers, please make a donation to the Breast Cancer Coalition of Tennessee,106 Mission Court, Suite 602 Franklin, TN 37067. A celebration of her life will be held at 11 a.m. on Saturday, September 1st at Woodlawn Baptist Church, 100 Woodlawn Rd, Lenoir City TN.
Previous Events
Service
Woodlawn Baptist Church
100 Woodlawn Road
Lenoir City, TN 37771
A celebration of life will be held at 11 a.m. on Saturday at Woodlawn Baptist Church in Lenoir City.